Meet Us
Hi Friends! Meet Us – A spirited and spiritual family of 6 who work hard, play harder, and love hardest of all. Our faith in God, and in each other, has guided us through multiple deployments, blessed us with 4 amazing kiddos, and has given us the strength and courage to chase our big dreams, and inspire others to do the same.
We are Anchored to our faith, and to our family, but we are about to set sail on our BIGGEST adventure yet. We are saying goodbye to our home in Omaha (and to a beautiful chapter in our lives), and truly taking this show on the road. We are so, so excited to follow our dreams, wherever (and everywhere!) in the world that they may lead us, and if you feel so inclined to follow along, we'd love to have you aboard!
All our love,
Laura, John, Scarlett, Miller, Juliette & Violette
The Anchored Family
John
Hello, new friends. John, here – (insert food/sport/etc.) fan, and former military man. To know me is to know my love for God, and my unwavering dedication to my family. My wife, Laura, drastically changed our trajectory a few years back, and, together, we are navigating this new path. Now, retirement from the military doesn't come without honor, but finding your next step is a journey in itself. If you're someone facing the challenge of life after the military, I hope you'll find some of what I share to be helpful. I still hold firmly to the values and core beliefs from my days as a (insert rank), and my faith and family motivate and inspire me every day. I strive to do the same, both in my new role as CFO of Anchored Enterprises, and as I pen my first book – a father-son devotional that I hope will help to bring families closer to God, and to each other. I'm excited to take this leap of faith, and take on the world. I hope you'll come along for the ride!
Laura
Hello, friends! I'm Laura – a health- and heart-driven homeschooling Mama with big dreams and even bigger drive. To whoever is reading this, thanks for stopping by! And, welcome to our world. Just 4 short years ago, it wasn't the world I wanted for our growing family, so I made the choice to change it. My husband, John, supported us for many years with his courageous military career, and, for that, I'm forever thankful. Somehow, though, we still found ourselves struggling with debt while dealing with deployments, and trying to manage multiple moves. My best friend tried to tempt me with Network Marketing, but I didn't want any part of it! I sewed for Etsy. I coupon-clipped. I stayed skeptical for 3 whole years. Finally, I decided that, with God's help, and whole lot of grit, I was going to build a business by building up others, earn a 7-figure income, and change our stars. I'm not going to lie – it wasn't easy. At times, it was downright hard. But, this journey has taught me that, if you chase them fiercely enough, dreams do come true. Mine did, and so can yours. So, now, here we are, still dreaming, still chasing, and about to follow those dreams around the world. Set sail with us and follow along!
Jedi Master of my Bible and total boy, I'm Miller-Man, and devotion is my jam. I'm a piece of the inspiration behind my Dad's new book, and I'm the (only!) other man of the house. I love Jesus. I love the Avengers. I, like, LOVE, love Star Wars, and, like any kid, I love to play. I can't wait to lightsaber my way through this epic family adventure, and to show other kids just how cool it is to dream big with God along the way.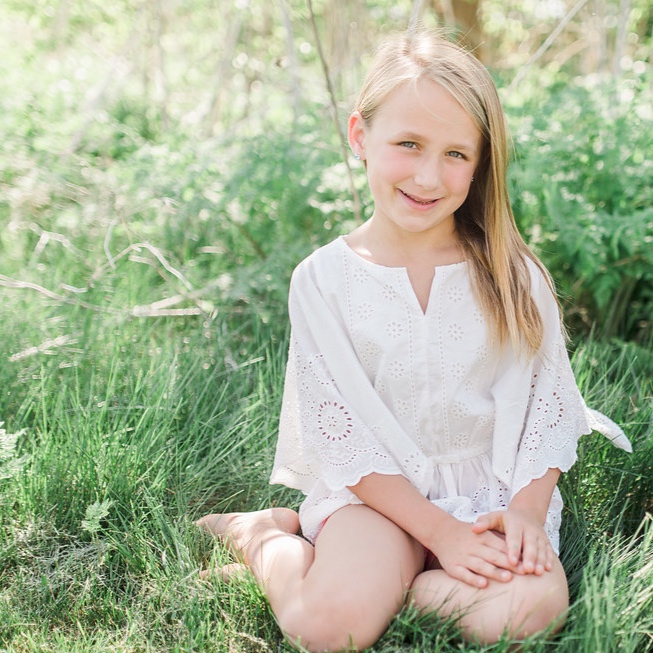 Hi! I'm Scarlett – athlete, actress, and big sister extraordinaire. I love the spotlight (and it loves me!), and I have massive dreams of being a star. I am determined to master anything that I can get my hands on, and right now that's a basketball and a gymnastics bar. I can't wait to dribble, swing, cartwheel, play, and sprint my way around the world, trying out new sports and making new friends. I adore adventure. Game on!
Dun dun DUN!!! Baby shark in all the right ways, I'm Vivi, and I'm the real boss around here, obviously. I may be the baby of the family (for now), but I can hang with the big kids and with my best buddy Elmo by my side, the sky is the limit. I'm feisty and fearless, and I'm always on the go. I chase adventure. Try to keep up!
Do you believe in magic? You should. Unicorns, too. I'm Juju, and my heart is a dreamer's heart. I'm fine picking dandelions and dancing to my own beat, and I want to be a fairy princess artist who lives is a castle one day. My imagination is my super power, and my sisters are my best friends. I'm a middle kid living in a magical world. See it through my eyes and you'll never have a bad day.
The biggest, best surprise we've ever received, and a beautiful reminder that life is God's design. This little one is already so, so loved. A world of adventure awaits…We can't wait to welcome you to it!